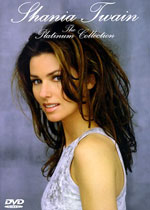 [Einleitung]
Mit "The Platinum Collection" erscheint von Mercury/Universal eine DVD der Musik-Künstlerin "Shania Twain" auf dem deutschen Musik-DVD Markt. Wir nahmen die DVD etwas genauer unter die Lupe und konnten uns ein Bild von der technischen Umsetzung und dem Inhalt der Disc machen.

[Inhalt]
Wenn man nur einen flüchtigen Blick auf Shania Twains Liste der Erfolge und Auszeichungen wirft, denkt man zwangsläufig, dass sie ein Urgestein im Musikbusiness sein muss. Tatsächlich aber mischt die junge kanadische Frau erst seit weniger als drei Jahren die US-Charts auf. Jetzt, nach dem sensationellen Erfolg ihres Debüt-Albums "The Woman In Me", schlägt Shania erneut ein Erfolgs-Kapitel mit "Come On Over" auf.
Diese DVD-Fassung mit dem Titel "Shania Twain – The Platinum Collection" enthält folgende Titel:
01. What Made You Say That
02. Dance With The One That Brought You
03. You Lay A Whole Lot Of Love On Me
04. Whose Bed Have Your Boots Been Under?
05. Any Man Of Mine
06. The Woman In Me (Needs The Man In You)
07. (If You're Not In For Love) I'm Outta Here!
08. You Win My Love
09. No One Needs To Know
10. Home Ain't Where His Heart Is (Anymore)
11. God Bless The Child
12. Love Gets Me Every Time
13. Don't Be Stupid (You Know I Love You)
14. You're Still The One
15. Honey, I'm Home
16. From This Moment On
17. That Don't Impress Me Much
18. Man! I Feel Like A Woman!
19. You've Got A Way
20. Come On Over
21. Rock This Country!
Und damit auch gleich ihre größten und besten Hints von "That Don't Impress Me Much" bis zum jüngeren "Come On Over". Schön zu sehen.
[Kommentar + Technik]
Die technische Leistung beschränkt sich auf einen gelungenen 4:3-Vollbildtransfer und einen ausreichend hochwertig klingenden AC3 Dolby Digital 2.0-Soundtrack. Nicht nur Shania Twain ist als sehr ansehnlich zu bezeichnen, gleiches gilt auch für den hier gezeigten Bildtransfer. Er weist knackige Farben in einem ausgewogenen und von einem guten Kontrast überschatteten Geschehen auf, glänzt mit einem angenehmen Schwarzton in den meisten Videos und begeistert mit einer sehr hohen Sauberkeit und einer guten Kantenschärfe.
Der Ton kommt leider nur im zweikanaligen Dolby-Gemisch daher, was in Anbetracht der Mitbewerber, die auch oftmals Mehrkanalton der Generation 5.1 mitbringen, etwas unzureichend erscheint. Die Qualität der akustischen Leistung hingegen reicht aus. Eine klare und deutliche Wiedergabe von Höhen, Tiefen und etwas Bass sorgen für Unterhaltung, wenn hier auch mehr möglich gewesen wäre.
[Fazit]
Ab Januar 1995, als SHANIAs erste Single "Whose Bed Have Your Boots Been Under?" das Licht der Welt erblickte, war der Grundstein für einen kometenhaften Aufstieg gelegt. Die nächste Veröffentlichung, "Any Man Of Mine" (die B-Seite der Vorgänger-Single), wurde ihr erster Chart-Topper im Mai. Genau zu diesem Zeitpunkt schoss ihr Album in schwindelerregender Geschwindigkeit an die Spitze der Charts. Diese DVD ist ein logischer Schritt, und sie gefällt auch wirklich, sofern man eben die Musik der Kanadierin mag. Die DVD 5 kostet rund 50,- DM und kommt mit einer Laufzeit von insgesamt rund 80 Minuten daher. Für Fans zu empfehlen.
Andre Schnack, 29.12.2001
| | | | |
| --- | --- | --- | --- |
| | Film/Inhalt | : | |
| | Bild | : | |
| | Ton | : | |
| | Extras/Ausstattung | : | |
| | Preis-Leistung | : | |